A sharper eye

for a safer world.
Security Panel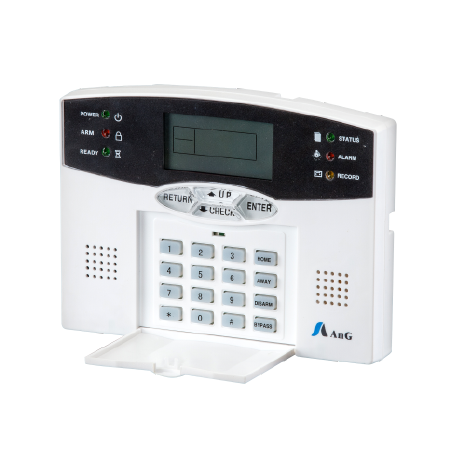 CONTROL PANEL
ANG2S08DW
With voice indication all around operation.
LCD screen indication.
Total 32 wireless zones: each zone enable learn code automatically or enter code manually. On the keypad. The panel compatible with all our made wireless device.
Total 8 wired zone, connect resistor on wired zone terminal to achieve. N.O or N.C alarm.
Enable enrol total 8 wireless remote, wireless door bell and unlimited for quantity of one way wireless siren.
Clock and event list: built–in clock, can be set according to local time.
Status inspection function: Enable record and inquiry 120 alarm event messages.
Compatible with CMS machine: support Contact ID, report alarm to CMS. Report arm/ disarm to CMS optional.
Vandal–proof function: If try to cut off the wire between wired detector and panel or cut off the tel line which connect to the panel will make alarm.
Timing arm/ disarm: Enable set 4 group time arm/ disarm tie.
Siren: The panel will built–in siren, it can also enrol extension wireless siren. Both can be settled on / off when alarming.
Voice indication volume enable adjuston the switch.
Administrator password and user password can be modified.
In CMS according to quantity of users, user can set 4-6 digit user code.
Follow me number: The panel dials pre-set follow me number to report.