A sharper eye

for a safer world.
Security Panel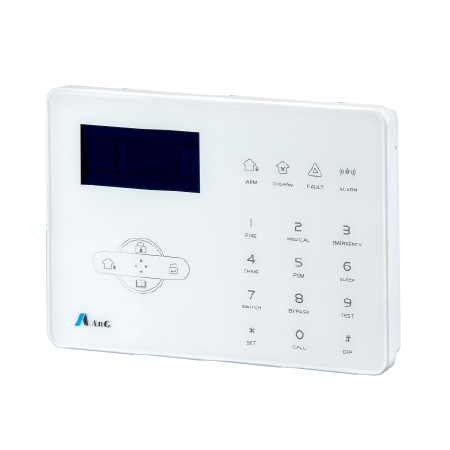 GSM CONTROL PANEL
ANG2S08DWGSM
Speech for each operation step with LCD screen display.
Programmable 8 wired zones/ 32 wireless zones.
Built-in GSM module can call or send out SMS message via SIMcard to pre-set phone numbers.
Gsm with intercom function, sleep mode/ PGM ouput/ 16 User codes.
Dual-way communication of arm or disarm status by phone or SMS message remotely.
2 alarm centre phone numbers (CMSnumber)/4 voice alarm numbers.
Communication protocol to alarm centre-Ademco Contact ID protocol.
Tel-line auto-dial with pre-recorded CMS numbers in case of emergency
32 wireless detector/ 8 wireless remote control/ 2 wireless door bell.
8 wireless intelligent power switch controller.
Admin and user menu operation separately.
4 group timing arm and disarm setting.
120 alarm log and inquiry / 10 seconds for live listen and recording.
Listen-in time Os-255s optional, AC loss/ landline disconnect, inspection disable/ enable.
Inspection wireless device low battery or lose status.
Arm or disarm status resume after power off/ wireless alarm linkage.
Magnetic contact opened inspection function/ tel-line off inspection function.
GSM frequency 850/ 900/ 1800/ 1900.
Built-in rechargeable battery 11.1V 11000mA up to 8 hours when power off.
Included 15v 12000mA external power adapter.